If you're a regular reader of my blog you've probably realised by now that I'm a massive lover of cooking and eating food. I'm also a huge fan of gadgets and as my kitchen is my favourite room in the house I love to buy new bits and pieces and gadgets for it and being a busy mammy I want things that will make the food-prep routine just that bit easier! Recently I've found loads of new things I'd like to try and as the dark nights are drawing in and the casserole and soup season is creeping up I thought I'd put together a wishlist of what I'm after- well wishing for! (Massive hints if the other half is reading this!)
Joseph Joseph Dot Water Bottle
Okay so this first one isn't exactly a 'cooking gadget' but it is an amazing gadget. I'm in love with all things Joseph Joseph so it's difficult to choose just one thing but when I noticed this one I fell in love all over again! As I've just returned from my holidays (about 3stone heavier) I'm wanting to get back into the healthy lifestyle, eating better, exercising more and the all important making sure I drink enough water each day. I'm totally rubbish at this part. I always lose track of how much I've drank and usually don't drink enough. This Dot Water Bottle has a hydration counting lid which enables you to keep track of your daily hydration goals as it displays a new dot every time you refill so you can keep track of how much you've drank. Pretty amazing right? And what's even better is that is comes in 4 gorgeous colours and only costs £10.00! I NEED one! You can grab yours here.
Kitchen Craft Cast Iron Book Stand (Lakeland)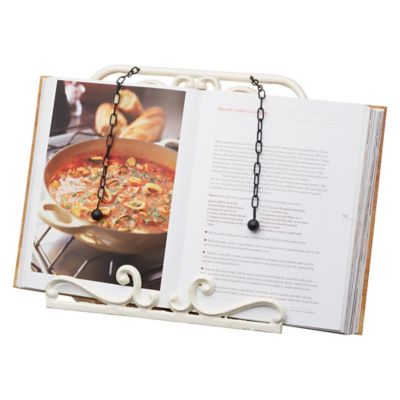 I've been looking for a kitchen book stand for months and haven't actually found one that I knew for sure I wanted until I came across this gorgeous cast iron one in Lakeland last week. I absolutely love to cook but I don't usually follow recipes, I alter everything- except my Mam's recipes. This would be perfect in my kitchen so I could stand all of my Mam's old recipe books on whilst I'm cooking. As all of her recipes were handwritten I'm usually too scared to have them out incase I ruin them by splashing ingredients all over them. This one is £24.99 too which I think is a total bargain- you can find it here.
Panasonic Combination Microwave
Okay, why do I not already have one of these?! These little beauties really are the future. As I mentioned before I'll be starting my healthy eating from next week and these combination microwaves would be absolutely perfect to accompany me on that journey!
"Experience fresh gourmet meals with minimal effort thanks to the Panasonic Steam Combination Oven. The oven boasts Turbo Steam, a healthy way to cook food while preserving vitamins, and Panacrunch which evenly cooks food to perfection, making it perfect for low-fat grilling. Cooking fresh and healthy food has never been so simple."
You can understand from this quote taken from the Panasonic website why I need one of these, yes? It sounds amazing and they look gorgeous, it would fit in my kitchen perfectly. The turbo steam technology sounds fantastic as I always steam my vegetables but can sometimes forget about them and steam them just a bit too much. Not only does that result in me eating mushy veg for me dinner (great for the baby who's currently weaning, not so great for me- I have teeth), but it also worries me that all of the goodness has been sucked out of it by that point. I'll be honest, I've never heard of Panacrunch but it sounds good doesn't it? Obviously you don't have to be on any kind of diet to have one of these beauts in your kitchen but knowing that you can cook a meal without all of the usual unhealthy cooking methods being involved is brilliant, especially as a mother, it would give me that bit extra peace of mind knowing how healthily (and quickly!) their dinner has been prepared. You can find all of the Panasonic Combination Microwaves here.
Morphy Richards (48280) Fastbake Breadmaker
Now I had a breadmaker years and years ago when I was around 18 or 19 and moved out for the first time. Obviously making bread wasn't really what I had on my mind at that time so it never got used and eventually got thrown away. I try not to eat too much bread these days as it all sits around my middle- but I'm just too addicted and have to give in to a slice or two every now and again. My Mam has always been amazing at making bread and bread loaves and I'm now starting to get the itch for it. Memories of waking up in the morning to the smell of fresh bread, I want those memories for my kids too. This one came up on my recommended items whilst I was browsing on Amazon.co.uk. I was surprised to see that it can bake a loaf of bread in under 1 hour which is a bonus for busy parents and it's only £59.28 on Amazon at the moment instead of £119.99! You can find it here.
Tefal Easy Soup Maker (Lakeland)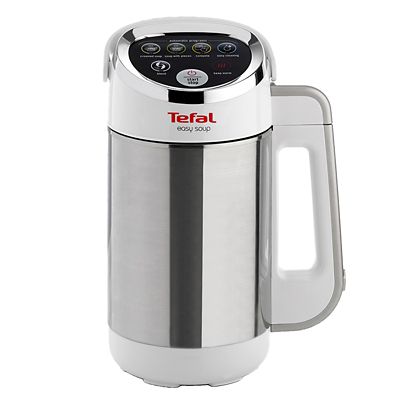 Another one I found on Lakeland is the Tefal Easy Soup Maker. I have an addiction to soup, honestly, it can be the hottest day of the year and at the end of the day all I'll want to do is snuggle in front of the television with a mug of hot soup- homemade is best. Which is why I totally NEED this soup maker. I love to make soup from scratch but I always end up making a huge pan of it and no one else eats it so I have to freeze it all then eventually throw it away when Gareth buys a pizza which is the size of the moon and we need to make more room in the freezer! That's why this one is totally perfect as all you need to do is chop your ingredients, fill the maker, choose the settings you wish (chunky, smooth etc) and then set it away. You then have soup and according to the reviews I've read this will make about 2 decent sized mug fulls- couldn't be more perfect for me, especially with the autumn coming. Another bonus is it's only £52.39 and you can find it on Lakeland here.
So there you have it, that's my kitchen wishlist for autumn- I could go on forever but I'll leave it at those 5 for now 🙂
Mother Hermit xx
*This is a collaborative post*